Simple Drag and Drop for Mac OS X
Filezilla is a simple, well designed tool that allows you to drag and drop files between your Mac and your rsync.net account.
This is a very simple access method that is suitable for grabbing or storing a few folders or files. This is NOT a robust backup.
NOTE: filezilla now contains ads and deceptive add-ons which are difficult (but not impossible) to avoid. You can read more about this here. We recommend using a paid SFTP client like cyberduck.
Overview - Filezilla is one of MANY choices
Filezilla is a very nice FTP client that can run over Secure FTP (SFTP). rsync.net supports any SFTP client and so it works perfectly.
There are many other very nice SFTP clients available, and many of them are detailed in this StackExchange discussion.
We recommend Filezilla because it is free, well-tested and in current development.
Downloading and Installing Filezilla
You can download Filezilla here.
To install the program, drag and drop the filezilla.app file to the applications folder.
Quick Connect to rsync.net
Enter your login information (host, username, and password) into the quickconnect fields at the top of the screen:

(the host and username shown above are examples - your login information is contained in your welcome email)
... now click the blue "Quickconnect" button.
Filezilla will ask you if you'd like to save your password - we recommend saying "no" as it is more secure, but it will be more convenient for you to choose "yes".
You will then be presented with this pop up window: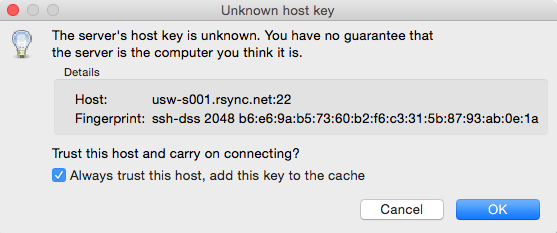 You should check the "always trust this host" box and then click on the "OK" button.
Once you are connected to your rsync.net account, you will see a dual-paned window like this: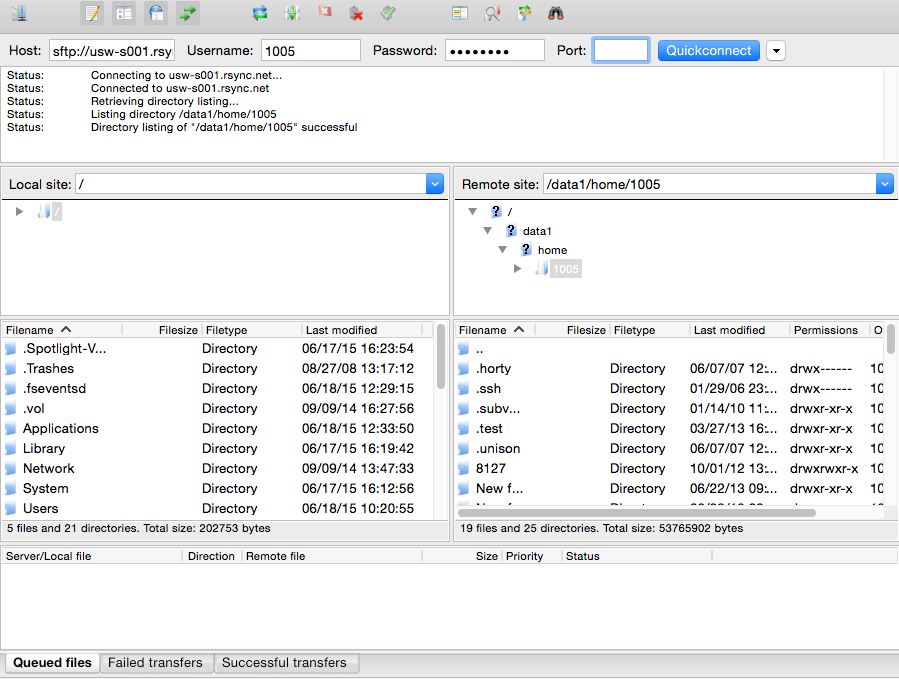 Saving the Connection
To save the connection and avoid retyping your host and username each time, choose "copy current connection to Site Manager" from the File menu:

You can then enter a name for this connection and click "OK" to save it: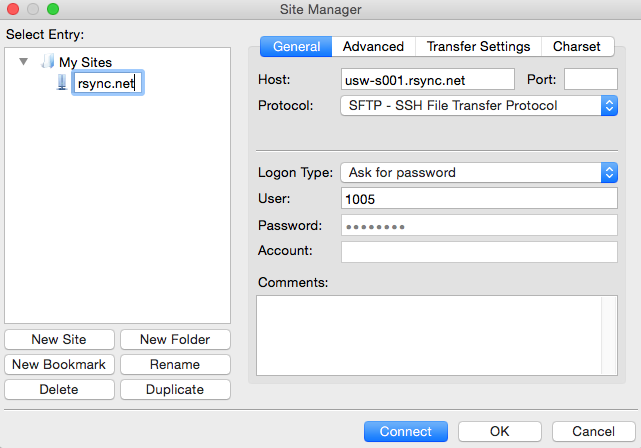 To reconnect to rsync.net later, just choose your "rsync.net" connection from the "Site Manager" which is under the File menu:

Support
If you have any problems with this process, do not hesitate to email support@rsync.net - we will help you immediately, and have you up and running that same day.
Click here for Simple Pricing - Or call 619-819-9156 or email info@rsync.net for more information.